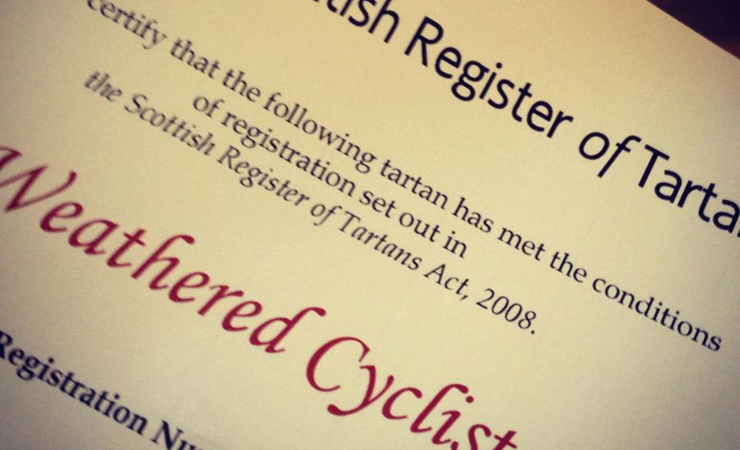 The bicycle is deeply entrenched in Scottish history and culture, with the first mechanically-propelled, two-wheeled vehicle (the bicycle) apparently being built by Kirkpatrick MacMillan, a Scottish blacksmith, in 1839. In 1887, John Boyd Dunlop developed the first practical pneumatic or inflatable tyre for his son's tricycle, making for a much smoother ride for us all.
Less well-known Scots have contributed to cycling far and above our well-kent sporting legends, Chris Hoy, Graham Obee & David Millar. It seems only right and fitting that bikes and cycling should be celebrated with their own tartan.
Originally created for the inaugural Tartan Ride, held in Glasgow on St. Andrew's night 2012, the 'Weathered Cyclist' tartan is the only cycling tartan.
Tartans with a more muted palette are often known as 'weathered'. Weathered Cyclist's colours were chosen to reflect a refined, subdued and classic taste. And of course, it is a cycling tartan; let's face it, anyone who has ridden a bike in rough conditions, especially in Scotland, can relate to being a 'weathered cyclist'. The matching of the two words was a good fit from the start.
The tartan has been designed and registered with the official Scottish Government body Scottish Register of Tartans by Ali Campbell.